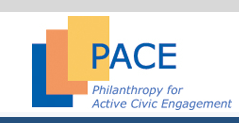 The 2008 election showed marked increases in the under-30 age group - the only age group to show such increases - continuing an upward trend that began in 1996.
However, to what extent is this a movement that can be characterized across American youth as a whole? PACE has released a white paper that explores the divide between low and high income youth civic engagement, citing an imbalanced distribution of educational, political, and/or civic resources and opportunities that encourage voting.
Key data points include:
Nearly 60 percent of 18-24 year-old college students voted in the 2004 presidential election, while only one-third of non-college attending youth (ages 18-24) voted.
During the 2008 primaries, college students were nearly four times more likely to have voted than students not attending college (25 percent vs. 7 percent).
During the 2008 presidential election, 70 percent of all young voters in the 2008 election had gone to college, although just 57 percent of U.S. citizens under 30 have ever attended college.
To download the paper, click here.