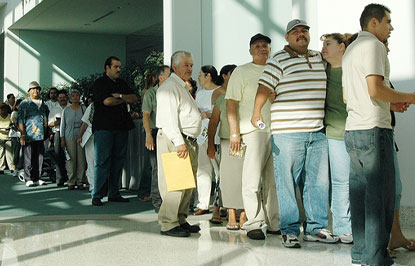 A proposal to
allow non-U.S. citizens who are in this country legally the right to vote
in the city of
Portland, Maine
is one step closer to reality.
On Wednesday, the League of Young Voters turned in more than 5,000 signatures for its legal resident voting petitions to the Portland city clerk. If the clerk validates more than 4,400 of the signatures, the issue will end up on the ballot in Portland in November.
The proposed charter amendment will allow immigrants to register to vote and cast ballots in municipal elections. However, they would not be allowed to vote on state and national issues.
The city's charter commission narrowly voted to reject the idea back in March. Upon the decision, immigrants vowed to start collecting petition signatures for the November ballot. "I guarantee you, we're coming back,"
said one of the leaders of the measure's movement.
Read more.
(Photo Source)